New package

:
Boat shuttle + cold sandwich + bottle of water 50 cl
18.90€ : Return shuttle + cold sandwich + bottle of water 50 cl
Your gastronomic
break
Whether it is in the room or on the terraces of fine sand,
we offer you creative and refined cuisine with Mediterranean flavours.
The Abbey of Lérins wine produced that is a few metres away from your table, ideally accompanies these dishes.
You also can make the most of "Les Canisses" Snack bar and have lunch in one of the picnic areas on the island.
Open every day of the year from mid-December to mid-November. Closed in the evening

Formule
Wine Fridays
Come and discover the wines produced by the monks of Lerins Abbey
on St Honorat island.
The package includes:
Return shuttle ticket to St Honorat island
Tasting of St Pierre and St Honorat cuvées (7cl+7cl)
Vineyard workshop (15 mn) at 12PM, 1PM, 2PM and 3PM
The package does not include:
Any extra glass of wine (3€ the glass of 7cl, 5€ two glasses of wine)
Enjoy a
unique day.
Feel the serenity of the monastic presence and discover a unique land that produces internationally recognized great wines.
In an area of 40 ha, you can alternate at the same time the joys of the sea and the historic visits.
Saint Honorat
Online, it's cheaper....
The adult fare is included in the price of the formulas, do not order any additional adult ticket
Boat packages must be ordered before 5pm, the day before. Not valid for the same day
The online tickets must be printed or shown on smartphone. If you are unable to show them, thank you for buying your tickets directly at Planaria ticket office on Quai des îles, at the end of Laubeuf car park.
*Reduced fare "Students or People with disabilities or Job Seekers or Seniors (more than 65 years old)", on presentation of a proof.
** If you come for a spiritual retreat, no need to mention the date of the return.
Boat shedules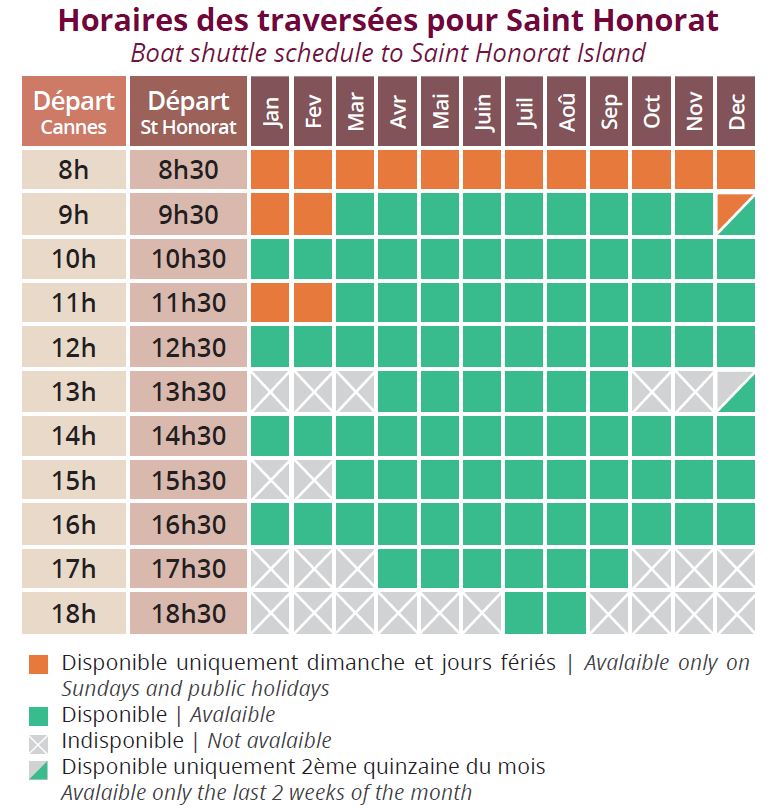 How to get to
Saint Honorat

island